Greenhaus - Camden Underworld 05/01/02

Tonight saw England's dark techno constructivists Greenhaus offer their first headline slot but with four supporting bands there was plenty on offer for most every alternative taste. I missed bottom of the billers Freudstein and The Sepia, but arrived in time to catch Brighton's Swarf. Currently putting the finishing touches to their debut album with producer Jose Alvarez-Brill in Germany, Swarf's defining characteristic beyond their accessible alt-electronic dark pop tunes is singer Liz's remarkable voice. The set included their debut single Fall but you needn't have heard them before to enjoy their energetic beats. Increasingly interesting and certainly unique on the UK scene, Swarf continue their steady rise.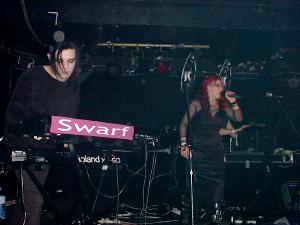 Seize were new to me. I knew nothing of them in advance, which probably goes some way to explaining what a wonderful discovery I thought they were. Hailing from Germany, Seize deliver quality commercial electronica with strong vocal lines and melodies, that puts the crap that fills the UK charts to shame. The female singer seemed to be enjoying herself, joined on stage by another female tambourine player (!) and a electro punk providing the live keyboards. Sitting on the floor at the back of the stage was a guy playing a small digital drum kit. It was only when looking more closely that I realise this guy was no other than Daniel Myer of haujobb, clean vision, hmb, etc. fame. His presence made perfect sense amid Seize's polished style and anyone who knows Myer's work will understand why Seize are definitely worth checking out.
Finally Greenhaus took to the stage. With their second album, "The Unmistakable Sound of Sloth", imminent and this the start of a European tour (as support to Fad Gadget), these lads have really ratcheted up the live performances over the past 12 months. Fortunately, just before you could begin to predict their set, they sneaked in some new tracks from the next album which indicated a remarkable development in both sound and direction. I've always preferred Greenhaus live to their debut album ("The Greenhaus Effect"), the songs coming over with plenty of live experimentation (or perhaps that should be 'winging it'!?) and force. The newer material is, relatively, more introspective, less driven by high BPMs and more by clever structure and drifting ambience.
The trancey third track gently eased in the newer material, but it was later in the set that Greenhaus really announced their current work in some style. The downtempo beats and swirling synth pads saw the band move from just controlling your feet to playing with the inside of your head too. With just two(?) new tracks making it into tonight's set and finishing on their popular cover of Joy Division's "Transmission", Greenhaus seemed uneasy about pushing the new stuff wholesale. Still, this being their first headliner, their caution was understandable. After building up a modest but respectable following it would be unwise to ditch the Chemical beats that garnered them attention in the first place. Still, I hope their fans embrace the newer, more contemporary direction they appear to be taking, and I await with keen interest that new album in full.

Links:
Greenhaus
Swarf
Sieze

Darkstar Organisation